There's no health without mental health.
The World Health Organisation constitution states: "Health is a state of complete physical, mental and social well-being and not merely the absence of disease or infirmity." 
Mental health is an essential part of our well-being but is often neglected or misunderstood.

Most of us only focus on improving our physical health to be healthy and overlooked an integral part of our well-being which is the state of our mental health. 
Our daily lives are often filled with pressure from school, work and family. Students are stressed from studying all day to keep up with their academics while adults have to meet the high expectations of their bosses.
After a long day of school or work, we drag our lethargic bodies home, feeling exhausted and worried. The demands and threats that we face from external factors have led to the build up of stress in our bodies and affected our mental health.
Although stress from time to time is good to push us to work better and to improve ourselves, beyond a certain level, we tend to crumble and fall. We start to feel an irrational amount of frustrations leading to mood swings and an inability to concentrate anymore. This form of mental health concern has become a mental illness when ongoing symptoms are prevalent and frequent stress has affected your day to day activity.
If the scenario above is familiar to you, it is important for you to understand more about mental illness and what you can do about it!
What is mental illness?
A mental illness is a disease that causes mild to severe disturbances in behavior, resulting in an inability to cope with life's ordinary demands and routines.
Mental illness constitutes a broad category of disorders and is very common. It is estimated that in a year, one out of five U.S adults experiences some form of mental illness. However, many of us tend to avoid talking about it totally and do not seek for help. A mental health advocate and consultant; Graham Panther, describes finding people who, had mental illness like him, live with "big feelings".
"It's feeling like you belong on Earth, even when you feel awful."
But mental illness is nothing to be ashamed of! It is a medical condition, just like heart disease or diabetes and is treatable. There are more than 200 classified forms of mental illness; the more common disorders are depression, autism, dementia, schizophrenia and anxiety disorders.
Photo taken by www.healtheo360.com
Symptoms
Signs and symptoms of mental illness vary, depending on the disorder, circumstances and other factors. They usually affect your emotions, thoughts and behaviors. Common symptoms include changes in mood, personality, personal habits and social withdrawal. Sometimes symptoms of a mental health disorder appear as physical problems, such as stomach pain, back pain, headache, or other unexplained aches and pains.
Causes
There's a wide variety of causes for mental health illness and many are related to stress from external environmental factors, genetics or a combination of these.
Environmental factors
Stressor is a situation or pressure that causes stress. Positive and negative events happening in your life can act as a stressor and harm your mental health. For example, having pressing deadlines for work or facing a promotion may result in more worries and anxiety when you are unable to cope. These events make you change your lifestyle or result in you having pessimistic thoughts, eventually leading to a mental illness such as anxiety disorder.
Photo taken from ru.pngtree.com
If you're also a victim of anxiety, here's what helped for me! I've been on a self discovery and eventually found a technique that has helped me so much. I am able to stop any panic attacks beforehand and cope with my anxiety.
I no longer have sleepless nights worrying about everything and can finally appreciate the goodness of life. This technique is introduced by Barry McDonagh in his Panic Away Program. Generally, I am able to stop a panic attack in 21 seconds and reduce anxiety in less than 7 minutes. I've introduced this 21-7 Technique to my friends and they have benefited from it as well. You can find out more about this 21-7 Technique here.
Genetics (hereditary)
Mental illnesses sometimes run in families, suggesting that a person, whose family member is diagnosed with mental illness is more likely to have a mental health problem as well. Researchers have also found that certain genes and gene variations are associated with mental disorders. It will be good to check your family's health history to understand better. More often than not, a combination of life triggers and genetics has resulted in the formation of mental illness.
After understanding about mental illnesses, you may like to ask "How can I achieve good mental health then?" There are various ways to achieve good mental health and relieve stress. But let me introduce you to the easiest solution. Slime is your answer!
What is Slime?
A quick introduction to slime: Slime is a gooey-like substance, which you can knead, poke and stretch like Play-doh. It comes in any and multi colors

,

and can be decorated with foam balls, buttons and more. Slimes are soft and stretchy, allowing you to squeeze and mold it into any shape you desire. Some of the most popular slimes are butter slimes, sparkle slimes and crunchy slimes. These slimes are popular for their visual appeals and lovable sounds they create.
Photo taken from Nim C
How does slime help with anxiety? (Particularly Mental Health!)
Slime works like a stress toy. It is a simple and effective gadget that can help you to relax while playing with it. The core function of slime toys is to take your mind off your stressors and calm your nerves. You can comfortably hold them in the palm of your hand and then squeeze them repeatedly. Knead, poke, pull. And repeat the process again and again. Many people have reflected that it is a very therapeutic process to play with slime and both children and adults alike enjoy it.
I like to call slime an artisan stress ball. Firstly, your hand and wrist muscles tighten when you squeeze it in your palm and relax when you release it. When you repeat this cycle over and over again, tension is released. As you continue playing with a slime, eventually all of your focus is directed to it. This makes you stop concentrating on the source of your stress and gives you a break from all the negativity. You begin to appreciate the beauty of slime and start to have lots of fun with it. The best part about slime is that you are able to decorate it and create your very own artisan stress ball!
Photo taken by WhatsUpMoms
Moreover, as your brain gets a break from stress, it triggers happy hormones such as endorphins. Endorphins are natural sedatives or pain relievers and help to enhance your mood. This is probably why so many people are buying slimes to play with and even making them!
Elmer's Galaxy Slime Kit is also especially popular to play and start with. I have them in my ASMR videos! The fact that it's so simple to start with makes it that much more fun!
The emotional component behind slime
There is an emotional component to slime that evokes childhood memories which helps your mental health. Many of us are reminded of Play-dohs, which we have all played when we were kids. Slime is akin to Play-dohs as it involves hand movements and we associate it with our childlike tendencies. These childhood memories are comforting, and it veers you into a relaxed mode that helps you to get good sleep and reduce anxiety.
Photo taken from Joseph Antonii
Also, playing with slime stimulates those nerves in your hand that is connected to the limbic region of the brain. This region is associated with emotions and when it gets stimulated, you feel calm and relaxed. These reasons thus explain how slime brings about positive emotions from childhood and relieves your stress.
ASMR and the Therapeutic benefits of Slime
Many ASMRtists have been recording videos of themselves playing with slime and their videos have amassed a large number of viewers. The ASMRtist who is playing with slime benefits from tactile, visual and auditory sensory stimulation while the viewers find it soothing to see and hear others playing with slime. Professor Craig Richard, founder of ASMR University calls this specific trigger observation-mediated ASMR. The squishy and crunchy sounds made by slime is therapeutic and helps many to reduce stress and anxiety. Personally, I love crunchy slimes the most as foam balls give additional texture and the crunching sounds are so calming!
It's an encouragement how little things like slimes can make such a big difference when it comes to mental health conditions! 
After learning about the benefits of slime for our mental health, would you be interested to make your own gooey slime? If your answer is yes, find out how to DIY your own slime below. You can also catch my experience of DIYing slime on my ASMR Doctor Channel before starting yours!
If not, here are some options:
I was inspired by other ASMRtists playing with slime so I decided to join in on the trend and make my very first slime! A quick search on Google provided me with multiple results on 'How to make your own slime'

.

As a student with little spare cash, I naturally went into looking for the cheapest way to make slime, preferably with household items. The one that caught my eye was creating slime with just 3 household ingredients! I thought that it was perfect because I happen to have all the essential ingredients at home.
Photo taken from Talisa Tosell
I only wrote down the main ingredients that I would need and proceeded to make my first slime, which I thought would be an easy process. I was so wrong and it didn't turn out to be as pretty as I wanted it to. 🙁 Nonetheless, I continued experimenting with the 3 ingredients and eventually, I learnt how to create the perfect slime after a few tries. (You can find the instructions here!)
Photo by ASMR Doctor
The 3 main ingredients that you will require are contact lens solution, baking soda and washable school glue. Baking soda and contact lens solution were easy for me to obtain as my family bakes often while I also have bottles of contact lens solution in my bedroom. In fact, contact lens solution is essentially saline solution, which is just a mixture of salt and water. I am looking at using just salt water for my future ASMR slime video to experiment if it still works perfectly so do stay tuned!
However, the problem that I faced was figuring out what washable school glue is… The brand of glue that is recommended on the websites could not be found in Singapore. I was clueless about the different types of glue but I am a glue expert now! The ideal glue for making slime is actually the most common glue that you can find in all stationery stores. Do get the washable one as it got to be waterproof. These are the 3 essential materials to make a slime, but I went to an art shop to purchase some food sprinkles, buttons and glitters to decorate my slime!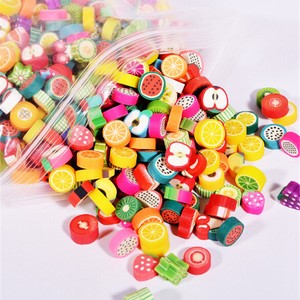 Photo taken from www.ebay.com
Now, here comes the fun part of DIYing my slime! The first step was to prepare a plastic mixing bowl and a plastic spoon. I poured the entire bottle of glue into my mixing bowl and added purple food coloring to it. However, I added way too much food coloring on the first try. The purple color that I got was too dark and dull. Despite my mistake, I proceeded to add in approximately 1 teaspoon of baking soda into my purple glue mixture and stirred till even. The last basic ingredient is none other than the contact lens solution. I added in about 2 tablespoons of it and stirred more. What I noticed was that the mixture hardens a little and became more firm. Upon touching, I still felt that the mixture was still too sticky on my fingers and I had to add in more contact lens solution. When I say to add in more contact lens solution, it actually meant to add in A LOT more contact lens solution! The bottle of glue can probably make a palm-sized slime, so adding in 2 tablespoons of the solution is not sufficient. I would recommend using at least 5 long squirts of the solution. That way, the slime will not be too sticky on your fingers when you first touch it to play.
When it comes to decorating your slime, you can go nuts! For me, I took a while before deciding on the food sprinkles because I thought that sprinkles are small and come in several vibrant colors, my slime will definitely look super pretty! When I transferred the sprinkle-filled purple slime to my hands to mold, the sprinkles quickly disappeared from my sight. The reason was because I did not add in sufficient sprinkles. At the end of my video, I was left with more than 2/3 of the sprinkles. I would highly recommend you to use the whole bottle of sprinkles for one batch of slime so that you will be able to see the decorations on it. You definitely won't regret it!
Follow the instructions here to make a PERFECT slime on your own!
Step 1: Get the main ingredients (baking soda, contact lens solution and a 4 Oz washable glue) ready. Prepare a mixing bowl and a stirrer eg plastic spoon to mix the ingredients in. You can also prepare decorations for your slime if you want to decorate it. 
Step 2: Pour the entire bottle of glue into the mixing bowl and add in 1 tablespoon of baking soda. You can choose to add in one teaspoon of food coloring too if you want to color your slime. Mix the solution well.
Step 3: Add 5 long squirts of contact lens solution into your mixture and stir well with your plastic spoon. You will begin to see the mixture harden and become stringy. Continue mixing till the mixture forms a ball of slime. Should the mixture be still watery, add in 3 more long squirts of contact lens solution. 
Step 4: Pick up the slime with your hands and begin playing with it! It should feel a little cold and slimy, but smooth and stretchy. If the slime is sticking to your fingers, do add in some more contact lens solution until it hardens fully into a slime.
Step 5: Go ahead and decorate your personal slime! Add in buttons, glitter, sprinkles etc. It's time to be creative and make your own slime pretty! And you're all ready for your slime play!
Tips to note before your slime creation:
A travel-sized contact solution (60ml) is enough for 1 batch of slime. It can be found at all drug stores at about 2 SGD.

Cover your table with a tablecloth or newspaper for easier cleanup after play. Though I didn't make a big mess in my videos, I realized that small sprinkles tend to fall out of my mixing bowl.

Consider getting decorations at the stationery store i.e glitter, food sprinklers, styrofoam balls to add into your slime creation. Be as creative as possible!

Do not touch your face while playing with slime!

Wash your hands right after playing with slime. My fingers smelled like glue and were a little itchy after 1 hour of play, but a quick wash with soap solved the problem.
My Thoughts
This is my first DIY slime experience! I had so much fun playing with slime, which felt cold and gooey on my fingers.  I took a relatively long time to make the slime as it kept sticking to my fingers.  The solution to this problem is to add in MORE contact lens solution! Overall, I feel that slimes are easy to create and it is a very therapeutic process. The best tip that I will give is to be GENEROUS and pour in all your decorations for your slime! This multiplies your fun and you will find it absolutely satisfying!
For those who are stressed or suffering from mental illnesses, give slime a try! I would recommend for you to start with watching videos on slime making every night before sleep to reduce stress. You can check out my ASMR slime videos, which is intended to calm you down! If you are interested, move on to make your own slime with the instructions provided above!
Please subscribe to my Newsletter and YouTube Channel if you liked it!